NEVER-ENDING LOVE STORY: CUSTOMERS LOVE BURGERS!
The burger – here to stay! From the trend to the classic, from fast food to slow food – the burger boom is unstoppable! Yet a hamburger is no longer just a hamburger. That's because customers are becoming more conscious of what they eat and their tastes are more discerning. They expect a wide and flexible range of food.
With Burger Unlimited, we offer a new variety of burgers that meet the individual needs of guests and have been developed for the challenges of the gastronomy. Success guaranteed!
Our variety – your infinite potential
With an incomparably large burger portfolio, we supply you with patties to satisfy any customer wish: beef, pork, Chik'n®, vegetable or plant-based – what type of protein would you like? Discover our burger innovations 2023!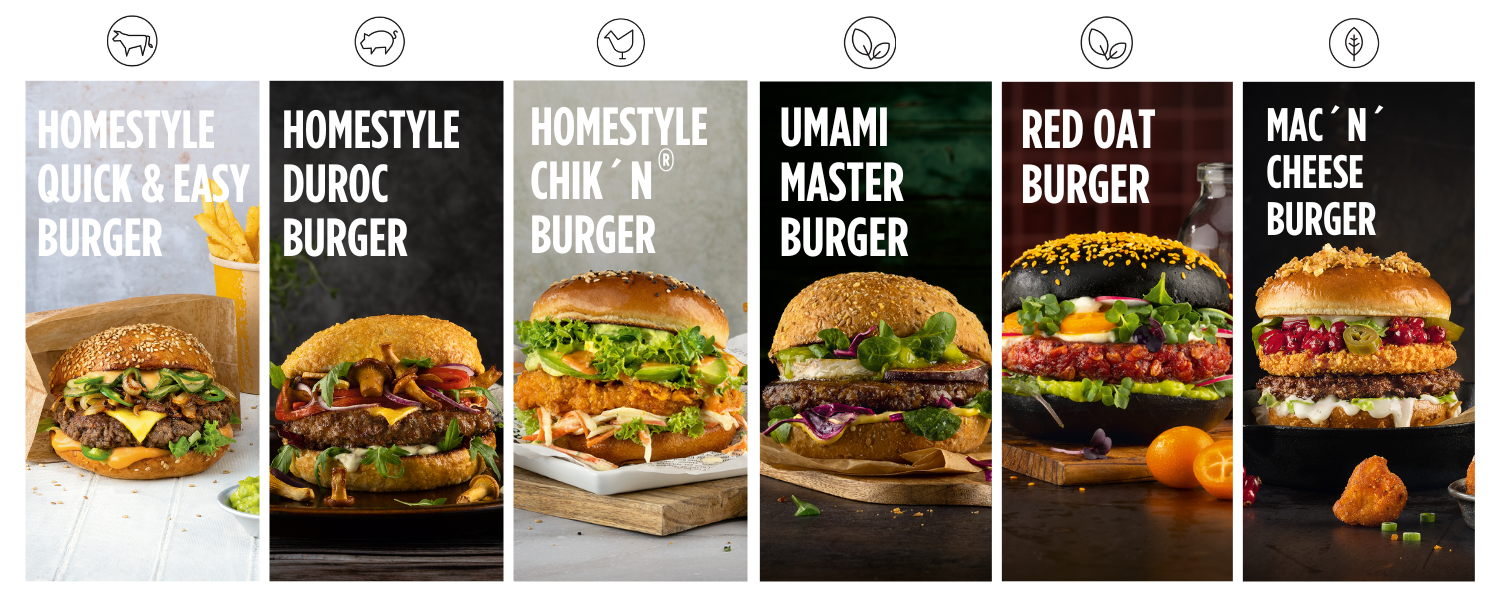 Handmade look in organic quality: discerning meat lovers who are conscious of animal welfare enjoy the popular Homestyle Burger in the finest organic quality. A tasty greeting from the lush Alpine meadows of the Allgäu region.
100% certified organic meat from the Allgäu region
Animal welfare as a sales argument
Loose and juicy handmade character
Chik'n® chic: really juicy on the inside and crispy on the outside, featuring the typical Homestyle look. The first Chik'n®-Burger to be cut from the whole chicken breast and coated by hand! Deep-fried and done in a dash.
100 % naturally reared chicken breast
Crispy and coated by hand
Perfect every time – cooked and really juicy
The new pork class: nutty, juicy and 'sow' good – this pork patty is sure to enhance your burger expertise. Greater variety on the handmade menu with the finest Duroc meat from Germany.
Juicy pork with a delicate nutty note
100% Duroc
Handmade look and texture
Are you hungry for more information about our new products? Contact us, we are happy to be there for you!
Your contact person
Fred van Oekel
Sales international
+31 (0) 889 953 549
fred.van.oekel@salomon-foodworld.com