Let's veg!
Full enjoyment & unrestrained flexibility.
When it's about modern dieting,
guests wanna have a choice:
Vegan
Veggie
HEALTHY VEGAN VEGETABLE SNACKS WITH A CLEAR FOCUS ON VEGETABLES AND VEGETARIAN SNACKS WITH ADDICTIVE POTENTIAL
FOR THE TREAT-YOURSELF-SOMETHING- NICE MOMENT IN DAILY LIFE.
Plant
based
AWESOME MEAT AND PROTEIN PLANT-BASED ALTERNATIVES: A VEGAN ENJOYMENT OF MEAT AND CHEESE FOR ALL YOUR GUESTS.
Green it up!
New Awareness -
What is good for both mankind and the planet is good!
New Gener­ation
Changed eating habits and a new understanding of balanced diet.
More sustainability and more culinary delight.
Flexi
boom
Highly flexible, no giving-up!
As despite a sustainable and healthy basic idea. Life still must be a little "fat".
Vegmania!

The new wing for your menu
Vegmania!
The new wing for your menu
The New Wing for your menu: Our vegan Cauliflower Wings are just smashing due to their versatility and their spicy BBQ crunchy coating. Individual sauces & glaze will make your snack concept lift off.
Vegan wings made from cauliflower
Juicy, tasty, crispy
As better side, for dips & to share
VERSATILE MULTIPLAYER
OUR COLOUR- FUL FALAFELS, OFFERED IN THREE GARISH, FUNKY VERSIONS, WILL ALLOW YOU TO KEEP YOUR FINGER ON THE PULSE! DECISIVELY TRENDY INGREDIENTS PROVIDE FOR EXCITING TASTE PROFILES AND WILL ARRANGE FOR COLOURS
ON THE GUESTS' PLATES – IN BOWLS, WRAPS, AND MORE!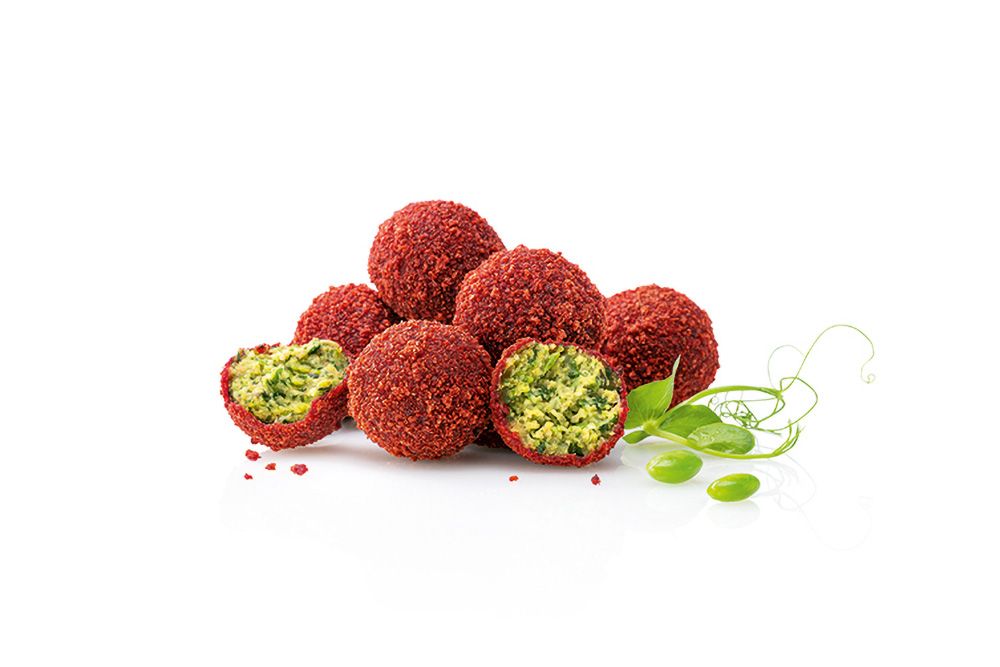 EDAMAME &
HERBS
Versatile, vegan snack
Juicy inside, crunchy outside
Trendy, cheerful eye catcher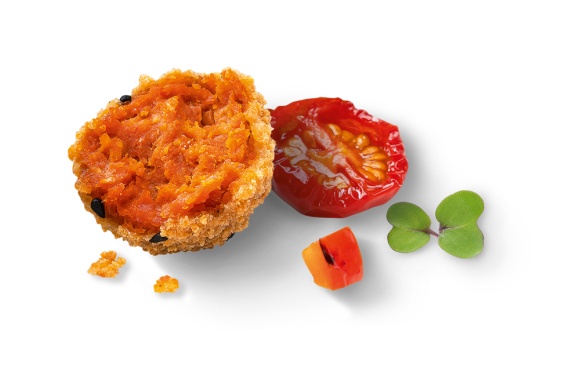 HARISSA &
GRILLED PEPPER
Trendy, vegan falafel balls
Crunchy vegetable breading
As appetizer, topping, filling & Co.
GINGER &
BEETROOT
Trendy, vegan falafel balls
Crunchy vegetable breading
As appetizer, topping, filling & Co.
Addictive snack impulse: The "Fried Pickles" trend from the US is winning your snack and appetizer menus. Luscious pickled gherkin cubes combined with creamy cheese filling, coated with a crispy-tasty nacho batter.
Pickle cubes and tenderly melting cheese
Tasty-crunchy nacho batter
Trendy appetizer and better-side dish

100 % VEGAN – 100 % ENJOYMENT
Guests' Favourites now plant-based
Exclusively developed and available for the food service sector. The same handling as with your standard products.
Green Heroes Plant Chili Nuggets
Vivacious snack delight für everybody: As plant-based version as convincingly creamy as our original. With luscious-spicy jalapeños and crunchy tempura – just snackalicious!
100 % vegan, 100 % plant-based
Tenderly melting filling
Indistinguishable from the original
Green Heroes Plant Chik'n® Nuggets
Plant-based snack: The finger food favourite, now also available as a vegan option. 100 % wheat protein with authentic Chik'n® taste in an irresistible tempura coating. Fast snack hero that appeals to more than just younger guests.
100 % vegan, 100 % wheat protein
Impressive Chik'n® flavour
Tender-crispy tempura breading
DID YOU GET HUNGRY?
Are you hungry for more information about our GREEN products? Contact us, we are happy to be there for you!
Your contact person
Fred van Oekel
Sales international
+31 (0) 889 953 549
fred.van.oekel@salomon-foodworld.com