BREAKFAST RETHOUGHT
Flexible. Individual. Multi-culinary.
Out-of-home breakfast is booming! As the current, modern way of working and living torpedoes accustomed daily rythms such as fixed mealtimes, individual gastronomic solutions and innovative concepts are hot property. The slogan "Food Style meets Life Style" pretty much describes the new breakfast concepts to meet this demand: all-day breakfast, to-go offers, and varied snack ideas honouring international culinary trends. Join in and rethink breakfast! May we offer you some inspirations?
Mini Tortilla Egg & Cheese
Small vegetarian: juicy scrambled-eggs snack, filled with sun-dried tomatoes, crunchy pieces of red pepper, and cheese. Versatile and flexible, also perfectly suitable for your breakfast buffet, pre-cooked.
Breakfast classic de luxe: scrambled eggs, salmon, and spinach inside the popular and handy Mini Wrap. High-quality ingredients and the homestyle look make it the highlight for the buffet and for between-the-meals snacks. Fully cooked.
Homestyle Chik'n® Fingers Buttermilk
Favourite snack: the successful Chik'n® Finger now with a trendy buttermilk taste and covered in a crunchy and particularly coarse homestyle breading – like homemade. As a snack, as a starter or as a side dish: this product will pull in new guests! Fully cooked.
Spicy Champs: crunchy, natural tortilla chips made of corn mash and fried in peanut oil. The hot and fresh "Lemon Spice" nacho seasoning makes them a "gone-quickly" snack - even pure.
Guacamole Classic "Extreme Supreme" (Avocado Dip)
Absolutely premium: most aromatic avocadoes, puréed and smartly seasoned, refined with lemon juice and tomato pieces. The authentic Mexican recipe!
Wrap Tortilla "Traditional Plain"
Little multi-talent: Our smallest baked wheat flour tortilla is perfect for soft tacos, fajitas, or quesadillas. Extent your culinary Spanish know-how!
A chicken just in case: The juicy chicken inner fillets with a crispy breadcrumb coating are true all-rounders for many culinary combinations and always leave a sustainable impression, fully cooked.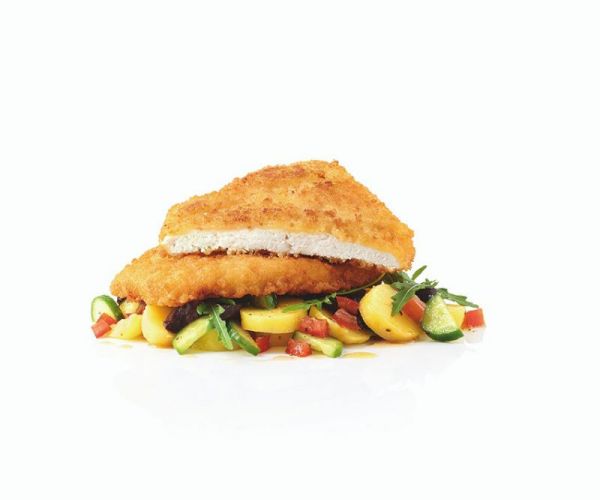 MEAT SELECTION Knusper Schnitzel Chik'n®
Super-crispy outside, tender inside: juicy, natural chicken breast in special crunchy breading for calorie-conscious meat gourmets. Cut in stripes, it's an ideal topping for a salad, for example, fried!