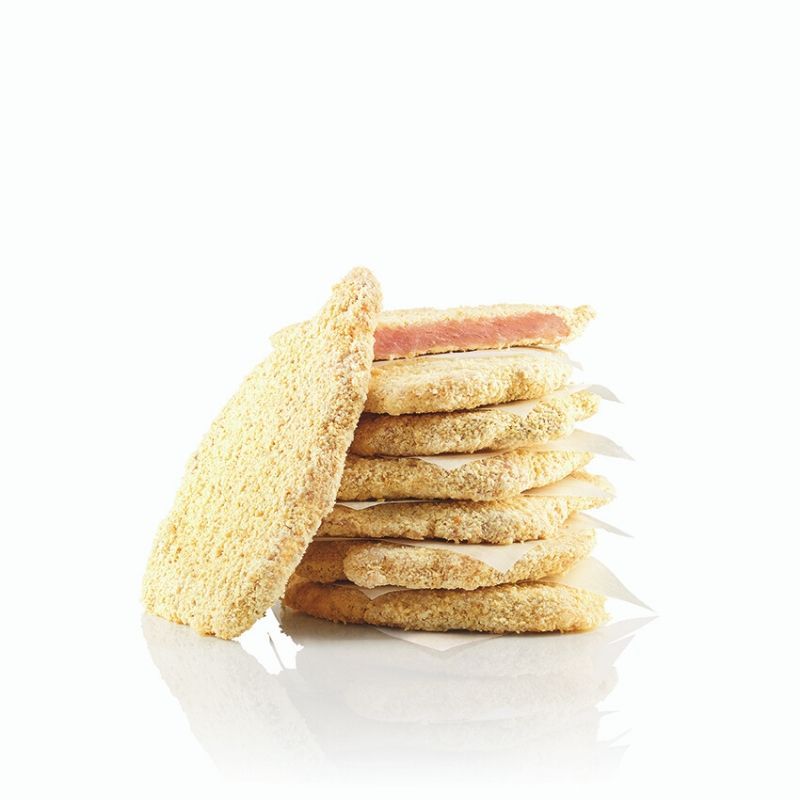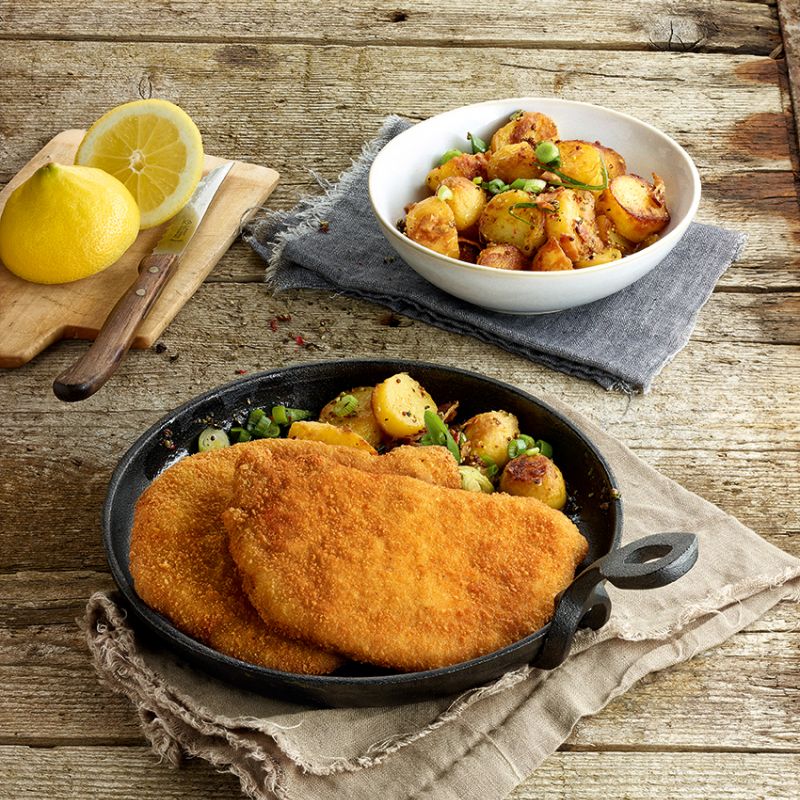 MEAT SELECTION Goldschnitzel
A real treasure: The best-seller among the pork schnitzels is captivating with its incomparably fresh lemon note and its tasty, golden-brown breading, raw.
Pork, raw
Approx. price per piece
Recommended retail price of SALOMON FoodWorld®
Login
This service is currently only available in german!
Mit der Anmeldung willige ich in die Weitergabe meiner persönlichen Daten von selly.biz an die Salomon Food World GmbH zum Zwecke der Durchführung und Abwicklung meiner Bestellung ein.
selly.biz ist ein lieferantenübergreifendes Online-Bestellsystem für die Gastronomie und Gemeinschaftsverpflegung.
Unit
Article number / EAN
Price
MEAT SELECTION Goldschnitzel 110 g


approx. 110 g x approx. 60 pieces = 6,6 kg

8410100
(Recommended sales price)
MEAT SELECTION Goldschnitzel 80 g


approx. 80 g x approx. 100 pieces = 8,0 kg

8413500
(Recommended sales price)
MEAT SELECTION Goldschnitzel 250 g


approx. 250 g x approx. 36 pieces = 9,0 kg

8412400
(Recommended sales price)
MEAT SELECTION Goldschnitzel 220 g


approx. 220 g x approx. 40 pieces = 8,8 kg

8412300
(Recommended sales price)
MEAT SELECTION Goldschnitzel 200 g


approx. 200 g x approx. 40 pieces = 8,0 kg

8411900
(Recommended sales price)
MEAT SELECTION Goldschnitzel 180 g


approx. 180 g x 20 pieces = 3,6 kg

8411520
(Recommended sales price)
MEAT SELECTION Goldschnitzel 180 g


approx. 180 g x approx. 40 pieces = 7,2 kg

8411500
(Recommended sales price)
MEAT SELECTION Goldschnitzel 160 g


approx. 160 g x approx. 40 pieces = 6,4 kg

8411100
(Recommended sales price)
MEAT SELECTION Goldschnitzel 150 g


approx. 150 g x approx. 40 pieces = 6,0 kg

8410500
(Recommended sales price)
MEAT SELECTION Goldschnitzel 120 g


approx. 120 g x approx. 60 pieces = 7,2 kg

8410200
(Recommended sales price)
MEAT SELECTION Goldschnitzel 100 g


approx. 100 g x approx. 80 pieces = 8,0 kg

8410000
(Recommended sales price)
MEAT SELECTION Goldschnitzel 140 g


approx. 140 g x approx. 50 pieces = 7,0 kg

5906700
(Recommended sales price)