TIME TO #BEDIFFERENT ANDERS MACHEN, ANDERS SEIN!
Testen Sie unsere neuen Produkte und finden Sie genau das Richtige für Ihren Channel und Ihre Kunden, um sich im Markt abzuheben und sich gewinnbringend zu differenzieren. #BeDifferent!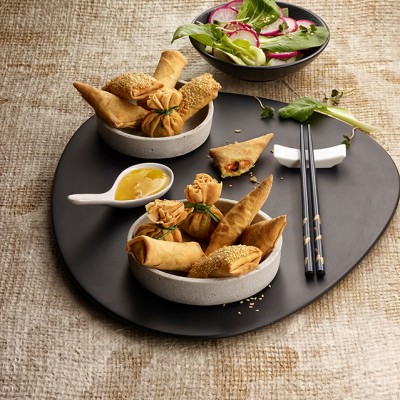 4 Asian Delights Selection
Classical quartet: Asian finger food favourites in four different shapes with authentic fillings - from vegetarian to shrimp and duck, fully cooked.
SHRIMP SESAM WAN-TAN Sesam dough bag filled with juicy pieces of shrimp and refined with aromatic coriander, fully cooked.
CHIK'N MONEY BAG A real eye-catcher! Thin dough bag filled with tender chicken, cabbage, and prawns, fully cooked.
DUCK SPRING ROLL Dough roll filled with duck meat, onions, and spring onions with Asian Hoisin sauce, fully cooked.
VEGETABLE THAI SAMOSA Fine glass noddles, vegetables, and a hint of lemon grass make these little samosas from Thailand a special delight for any fan of Asian food.
Einfach Formular ausfüllen, gewünschte Musterpakete auswählen und absenden:
Hinweise:
Muster-Bestellungen sind nur für gewerbliche Kunden aus dem Foodservice-Markt (Restaurants, Imbisse, Cateringbetriebe, Gemeinschaftsverpflegung, usw.) möglich. Privathaushalte sind von der Aktion ausgeschlossen.
Pro Betrieb, Produkt und Jahr, kann nur ein Muster bestellt werden. Bei Personen, die das Produkt bereits kostenlos angefordert oder gekauft haben, entfällt der Anspruch auf ein kostenloses Muster. Vor Versendung der Muster, wird Ihre Anfrage dahingehend zunächst geprüft. Die Zustellung der Muster dauert 7-10 Tage (ab Auftragserfassung).